Your Delight Is Our Endeavour
We offer a wide spectrum of digital production services catering to businesses globally and work with you at every step of the way from concept & design through composition to high-definition production and output. JASRAS is fully equipped and always ready to see through complex, and large-scale design and production challenges to successful completion.
We work with Brand Communicators, Interior Designers, Architects, Store Planners, and Retail/Visual Communicators and with Clients from various sectors ranging from Retail, FMCG, Technology, Healthcare, Education, Banking & Finance to Entertainment.
Our unique strength is in our ability to print on any surface known to man. The most advanced technology available today is at the heart of all our operations however the soul remains our people.
Our technology enables us to print on any surface with a thickness of up to 2.5 inches thereby outdoing all material limitations, allowing true creativity to find the perfect rendition at all times. Some such surfaces and materials are – Flex/Banner Material (front-lit / Back-lit), Plywood, Particle Boards (MDF), Acrylic (front-lit / Back-lit), Polycarbonate, Glass, Canvas, Wallpapers, Venetian & Roller Blinds, Acoustics Ceiling Panels, Ceramic & Vitrified Tiles, Pebbles, Aluminium Composite Sheets, Veen & Laminates (table-tops) Carpets, and Building Wraps (i.e. printing, assembling and installing super graphics on the building facades.)
We are a green company! Our printing technology, printing material, internal processes and even the inks are all environmental friendly & certified green, certain combinations also contribute to LEED credits.
Our building is certified healthier than a standard building. As members of IGBC (Indian Green Building Council), we make use of less energy, water and natural resources, thereby creating less waste, and ensuring a healthy workplace for our people and for the environment at large.
Our print technology utilises eco-friendly 'UV cured inks' that are 'Environmentally Friendly Ink'. This UV curing print process emits 0% VOCs (Volatile Organic Compounds) & 0% HAPs (Hazardous Air Particles), thus is completely safe for everyone who is part of the process from production to installation, and especially for the end consumer.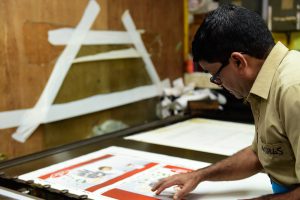 JASRAS is the pioneer of Prepress services in India, and prepress forms one of our core areas of operations.
It is well-known that design, visuals and colour have a huge impact and influence over the human mind. Which is why, millions and millions of dollars are spent across the world by brands and enterprises on developing designs to influence their customers.
We understand the importance of achieving consistency and uniform reproduction of this design into final output in print as well as digital mediums.
We work closely with your branding & marketing team to ensure the highest level of quality is attained in all processes before printing and finishing.
With decades of experience under our belt, we support our clients at every stage from design to final production.
Our Prepress services include:
Design services – Assimilation of all designs, input material, proofreading, typesetting and developing print ready layout & artworks
Colour management – colour correction, enhancing designs and photographs and developing colour charts
Preflighting – ensuring that all design meet the necessary production requirements
Proofing – Our team is equipped to develop off set as well as digital proofs of designs
We respect the investments our clients make in their ideas and are driven to ensure that our Prepress efforts result in the best reproduction of our client's designs across media.
Space Designing Services (Spatial branding)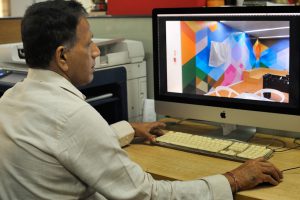 Jasras is one of the most experienced spatial branding solutions provider in India.
We believe 'Spaces' convey 'Stories'. Stories of brands, stories of success, stories of inspiration, stories of companies' philosophy and so on. We translate these stories into powerful visuals across strategic touchpoints to help our clients augment their customers or employees spatial experience.
Our team specialises in designing and fabricating revolutionary, bespoke, ambient and way finding design solutions, aligning with your vision and brand. We develop innovative design solutions for offices, retail outlets, stores, malls, showrooms, exhibitions, airports, hospitals, schools, etc.
We offer a host of services including planning, developing layout and artworks, printing, fabrication, assembly and installation.
Whether it is a new site that needs to be built from scratch or an existing one that needs renovation, we can provide practical, contemporary and innovative design solutions.
There are a number of services that fall under the ambit of Spatial Designing such as:
Wayfinding solutions
Placemaking and Identity
Exhibit design
Public installations
Branded environments and themed environments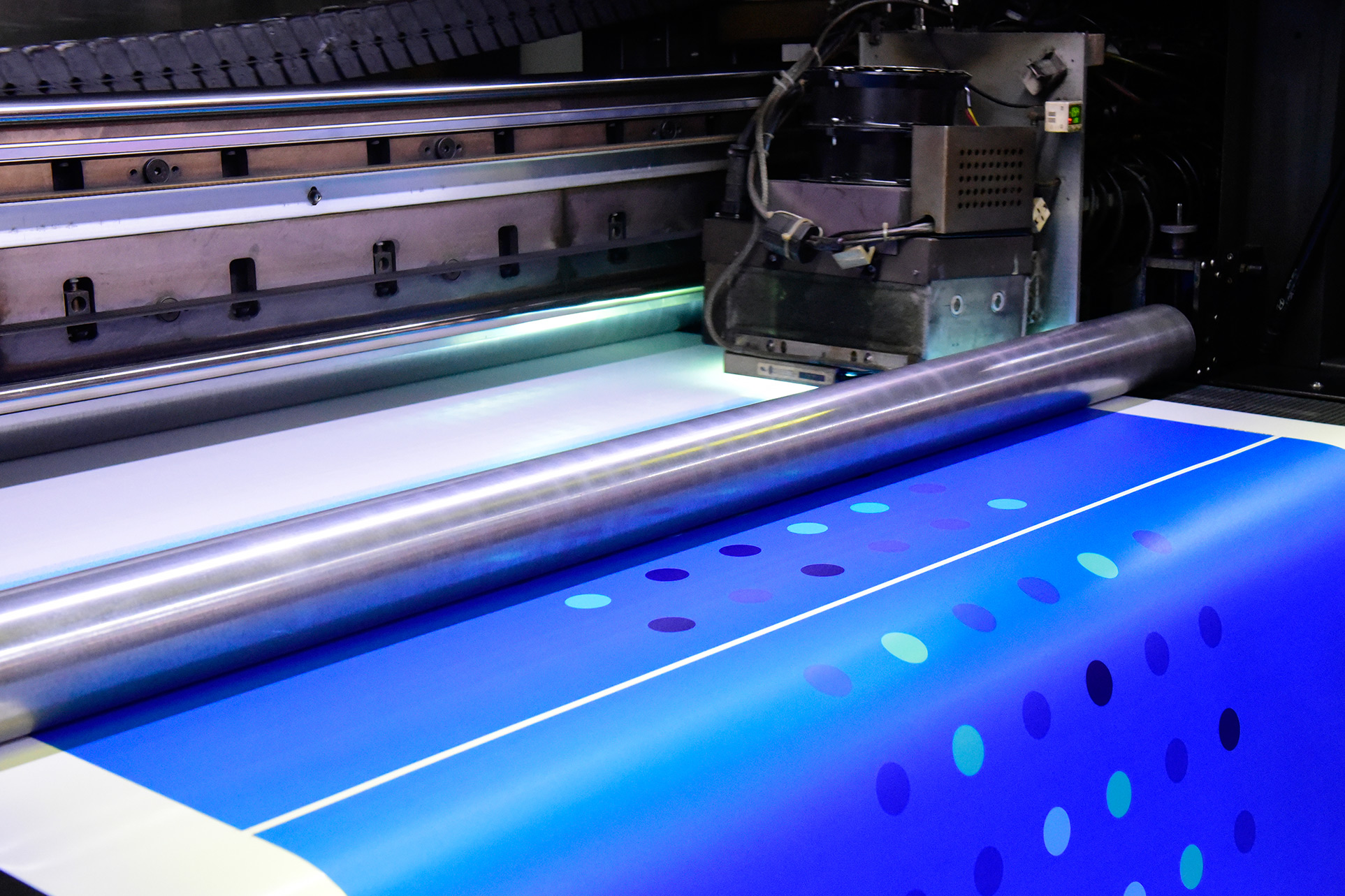 Our advanced Digital Printing technology enables us to print virtually on any surface up to 2.5 inches thick. Thus, your graphics & communication are only restricted by your creativity.
We take pride in having the largest capacity in print production across the entire Asia-Pacific – a total combined daily volume of more than 60,000 square feet of high quality print. We are ISO 9001 certified.
Our core competence is reproducibility of colour on various surfaces and mediums using direct to surface environmentally friendly UV cured pigmented inks. We specialise in designing and printing branding material for In-shop branding, On-shop branding and Space branding.
We are also among the few companies that provide 'Archival Printing Services' – a form of digital printing that prints on archival high-quality canvas and produce prints of superior archival quality to increase the longevity of the print.
We have a 24×7 facility with dedicated team of experts who have been with us for many decades.
Apart from various regular material, the exotics that we are able to print on directly include:
Polycarbonate
Glass
Tiles (ceramic, vitrified)
Wood, Ply Wood, Veneer & Laminates including items such table-tops, etc.
Aluminum, Stainless steel sheets and Aluminum Composite Panels
Wall Covering, Roller Blinds and Carpets
Canvas, Acoustic Ceiling Panels, Awnings etc.
Coroplast
Sintra
Foamcore
Ultrabond
Lexan
Plexiglass/Acrylic
Dibond
Gatorboard
Polystyrene
Advantages of UV printing technology:
High Resolution Printing – meant for extremely close viewing of graphics
High Durability – UV inks are extremely durable and have a non-fade life of over 7 years indoors & over 5 years outdoor in direct "Indian" sun (both these figures are on the conservative side.)
Enhanced Colour Vibrancy – UV inks have the highest amount of pigment (actual colour particles) Vs. other wide format print inks. To add to that, because of the intense UV curing of the inks, 100% of the pigments are retained on the surface.
Our print technology utilises eco-friendly 'UV cured inks', also known as 'Environmentally Friendly Ink', this UV curing print process emits 0% VOCs (Volatile Organic Compounds) & 0% HAPs (Hazardous Air Particles), thus is completely safe for everyone who is part of the process from production to installation, and finally for the end consumer.
More about our 'Environmentally Friendly Inks':
Contain up to 50% naturally derived monomers & oligomers derived from renewable resources such as plants or biomass.
Contain virtually no volatile organic compounds (VOC).
Do not contain heavy metals such as antimony, arsenic, cadmium, chromium (VI), lead, mercury, and selenium.
ROHS and UL GOLD Certified Inks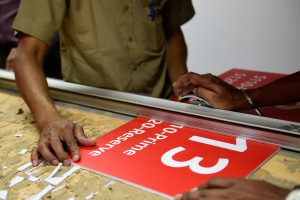 As architectural structures become larger and more complex, people need easy-to-follow visual communication such as messaging, directional signs, maps and symbols to help guide them to their destinations.
Wayfinding signage is a compelling tool used to help people find their way and make your business easily accessible to visitors.
At JASRAS, we have mastered the art and science of creating effective Wayfinding systems right from design stage to fabrication and finally installation.
We take pride in the fact that we are the only way finding solutions provider who has developed inhouse capability to print in Brail and raised effect prints.
We specialise in creating customised interior and exterior architectural signage for corporate offices and large institutions such as airports, hotels, metros, shopping malls, hospitals, colleges and universities, stadiums and museums.